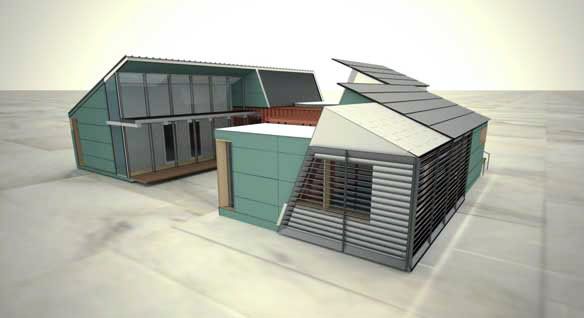 CORE House in Washington D.C., USA

While two-time solar champs, the University of Colorado, didn't win last year's Solar Decathlon held in Washington, D.C. with their CORE house, they did place 7th. Is that good enough for these decathletes? Maybe not, but their house is definitely worth talking about. And here's to hoping they come back in 2009 to kick some more solar ass.
Like many of the designs at the SD, the spine of
CORE
is made up of shipping containers for ease in transportation and size requirements of the competition — which is about 800 square feet, much smaller than a typical home.
But that's just the basics. What's important to know about CORE is that it uses an integrated photovoltaic thermal collection system. Heat collected from the PV not only heats water during the day, it also saves up to heat the house at night. In the summer time, the process works in reverse, making it a more energy efficient system.
The coolest part is the sustainable materials that the CORE house was able to showcase, like Marmoleum (a natural material made of linseed oil, rosin and limestone) and a formaldehyde-free laminated plywood made of bamboo called Plyboo Strand.
Like many of the other homes in the competition, CORE has an awesome aesthetic and is a prototype that could and should go into mass production. I just couldn't find information as to how much this tiny house would actually cost to produce. If it's anywhere near the price of the 2007 winning home by Darmstadt University – which, as I recall, was over 1 million dollars — these solar competition homes are way out of most homeowner's leagues. Will it be any different in the future if and when they go into mass production?