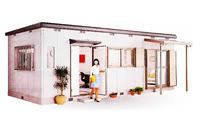 In response to the recent Tsunami disaster in Asia, this is architecture that addresses needs rather than desires, but like most our projects we believe it does both.
Shipping container homes are intended to provide a temporary housing solution to young couples.
Yet, they can also serve as the prototype for mass-produced, relocatable emergency and relief housing.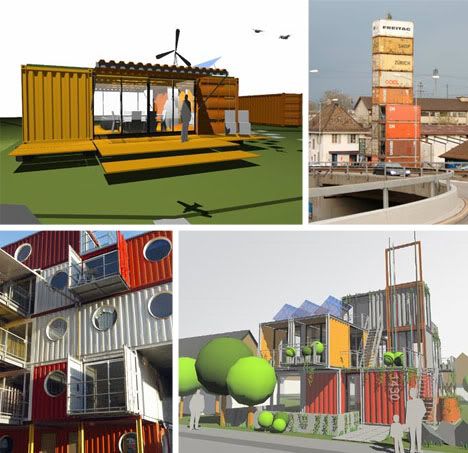 These EcoHouses have applications for a variety of needs – post flood, fire, earthquake, typhoon, or similar natural disasters; couples' flatlets, remote housing. The main volume of the building is a recycled 20-foot shipping container, a universal module that is mass-produced, inexpensive, robust and durable. As a basic unit the container can also be use as required by aid-coordination agencies, or in locations prone to disaster. It is designed to be shipped, and is easily transported by road and rail. All infrastructure for handling the module is available throughout the world.
Most importantly, shipping containers are ubiquitous and can be found all over the world. At times they are extremely cheap to obtain; at others, discarded containers can befound free of charge.
The containers as such have had minimal exterior changes: minor additional slots to accept the structure, a top-hinged front opening for the entrance, and a series of operablepanels in the roof for ventilation.
A Shipping Container Home can be fully erected within 24 hours. A pair of steel brackets with telescoping legs is fixed to the outside of the container, which is located onto the site bytruck or rail-mounted lifting gear. Site levels are established and the legs are pinned into position. Pivoting broad steel plates at the base of the legs eliminate the need for footings,so little site preparation is necessary. Uneven terrain and slopes up to 45º can be accommodated. All fixings are simple mechanisms, requiring basic tools and skills,and little maintenance for remote locales.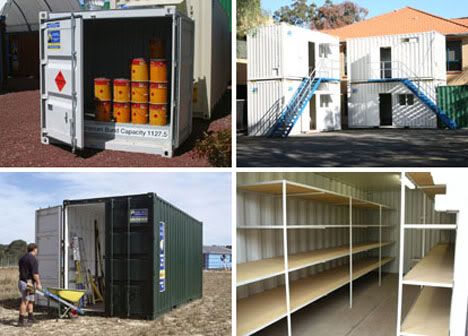 The EcoHouses produce thermal insulation of R4.0, shading by openable external shutters to co-efficient exceeding 0.49, and naturalventilation, the Moist Tropical/Rainforest Climate type also being supplied with roof lights/vents.Both eco-homes are provided with optional solar batch water heaters and solar cooking ovens, to fully utilise the energy potential of the blazing tropical sun.
The Dry Climate type, on the other hand, makes use of the SKYTHERM® roof pond, with bifold, retractable insulating panels.The pitched roof intended for the Moist Tropical/Rainforest Climate is easily adapted to local versions of "home" with its galvanised steel frame designed to accept thatch, mud and stick, palm fronds, etc. The containers, however small, are packed full of architecture, both in design and ideals.
As the people of the tropical climates enjoy spending a lot of time outdoors, both designs were envisaged to be accessed via ramped patios (or porches), serving as anextendion of the indoor space. Also you may feel free to select either of the two plan types, as both can be roofed using either of the two roofing systems accordingly.
We have focused on the possibilities of using containers in the least modified form, perhaps reducing the work required to adapt them to a level where you alone might be able toperform the necessary conversion work.
As a housing alternative to renting or buying, it is one that offers a high degree of portability, customisation, and security.
Shipping Container Homes provide good, cheap housing that can be erected or moved close to schools, hospitals and existing communities, instead of ripping up the countrysideand forcing people to the edge of existing cities, creating urban sprawl, or where the quality of life may not be very high, public services are stretched, and the car is a must.
They are cheap, adaptable, durable, transportable, stackable, light and reusable.