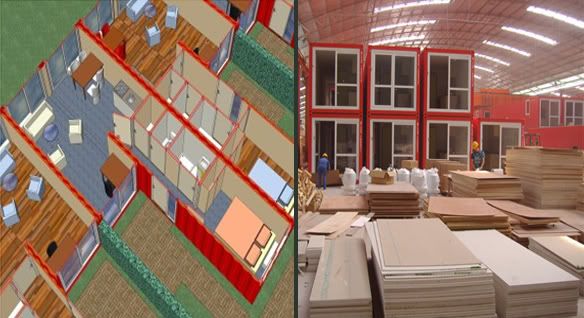 Keetwonen by TempoHousing, Amsterdam, The Netherlands
I've heard of students roughing it, but sleeping in freight containers? That's right. Only it's not a case of desperate living or some torturous fraternity hazing — it's a very cool,very useful idea developed by a Dutch company called
TempoHousing
.
First conceived in the 1930s, the
ISO
dry freight container has been the universal shipping receptacle worldwide for the past fifty years. You've no doubt seen thousands of them in your lifetime.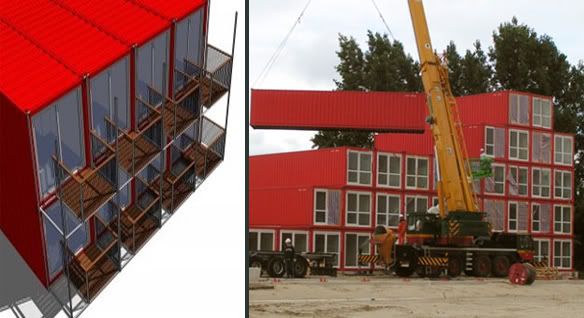 But could you live in one? Before you say "No way, it's too small" or "it's too boring", check this out: with standard dimensions of 40' x 8' x 8'6', the containers can be stacked (a whopping 8,000 can fit on a large ship) and transported anywhere in the world via water, rail or road.
How is it different from a trailer, you ask? Well, for one, thing it's green.
With millions of these containers in existence — many of them sitting around unused, taking up precious space or rusting away in junkyards — TempoHousing got the brilliant idea to recycle them into livable units. The result is comfortable, fashionable, affordable and can be… you guessed it… shipped anywhere in the world. How cool is that?
Sure, they're tiny. But each 332.9 square foot unit comes with the standard apartment amenities: kitchen, bathroom with hot water (via a 13.2 gallon boiler), heating (from dual units, one at each end), electrical wiring — even a balcony. Some containers also have windows on the side and air conditioning is available for an additional charge. In addition, a special roof has been added to provide efficient rainwater drainage, insulation and ventilation.
Design-wise, these creations are both smart and innovative. The nearly 26 square foot bathroom contains a special anti-slip floor with an integrated shower base. The doors come with anti-theft hinges and heavy duty locks, while the double-glazed U-value windows are equipped with fall-through safety. And of course, there are smoke detectors.
What I love is the endless potential for growth. The units can exist on their own or be stacked into "blocks" with centralized electricity, phone and internet systems. An entire complex can be easily created, taken down, moved and recreated. It's sort of like when Laverne, Shirley and all their neighbors and friends moved from Milwaukee to L.A. — only this could actually happen.
It doesn't end there. In addition to mini-apartments, TempoHousing has converted these containers into cafes, supermarkets and offices. And in the works is a 3-star container hotel (or "cotel") in Amsterdam. They've also come in handy in disaster areas like Pakistan, where fast, easily installable emergency shelters are needed.
But perhaps the coolest application thus far has been
Keetwonen
, the ultra-hip student housing project completed last year in Amsterdam. 1000 units came together to create a dorm alternative that was comfortable and sustainable.
What makes this concept so incredibly cool is not just that they're recycling old containers or that you can now take your home with you, it's TempoHousing's flexibility and willingness to adapt. Their mission statement (obviously written in Dutch and hastily translated into English) states that "quality housing – everywhere in the world – is a key in improving the quality of life. A low cost but fast solution that will last many years is of essence." According to their website, their in-house design team is available and eager to discuss your personal housing needs and develop specially tailored solutions to make your freight container unit as comfortable as possible.
Custom design that's green, cool, easy to set up, durable (at least 20 years), and a good investment to boot? Sounds pretty "G" to me.
To see a cool video about Keetwonen, click
here